✿Its June & Things Are Heating Up!✿
Bare It All with your Favorite Flirt!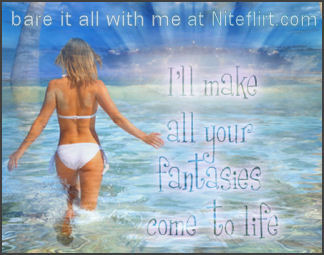 It's June & things are heating up! Everyone is getting ready for summer & that includes US, your favorite Niteflirt flirts. This month, we'll be celebrating the kickoff of SUMMER, beginning June 1st, with a sexy "Bare It All" naked phone sex blog-a-thon. As usual, we have lots of fun planned for you boys, in all fetishes & flavors, mild to wild, sexy-flirty to extreme kink, so take a "hop" through our blogs and sample the summer delights!~

Featured Flirt Bloggers:
Sensuous Sam - A Real Cougar Milf for Cuckold & Sissy Training

Love Meggie - Barely Legal Phone Sex Flirt

The Goddess Leesa - Bare Your Soul For Goddess Leesa

Serena Cavaretti - Feminization, cuckolding, small penis humiliation

Misty the Size Vixen - Size Queen, Small Penis Humiliation, Panty Boys

Ms Melanie - Femdom Cuckolding, Fetish & Financial Domination Phonesex

Riverstyxxx - Mature, Kinky, Seductive Phone Sex

Cuckold Goddess Angela - Cuckold Phone Sex

Illiana Christos - Masturbate & swallow for Mistress Illi!

Secret Hideaway - Mature Fetish Goddess

Queen of the Night - Addictive Phone Sex Enchantress

Phone Sex Tania - Petite cutie for hot, kinky phone sex!

Call Envy - GFE, Mutual Masturbation, Role-Playing, Phone Sex Quickies

X-rated Trish - X-Rated Trish Telephone Temptress

That Sexy Woman - Mistress DJ's Masturbation Class is In Session

I Am XTC - HOT Phone Sex MILF

Goddess Melinda - Real cuckolding wife for cuckold sissies - BBC & creampies!

Naughty Teen Nicole - Forced bi, humiliation by a Dominant Teen Princess

Little Miss - nom nom nom, eat your cum

Cum4Beth - Cum to Beth for Cuckold Humiliation

Erotica6969 - Mature Kinky Domme for Webcam Humiliation & Financial Domination

Saras Playroom - Sara makes you gay - humiliation, cuckoldry and chastity

Jerk 4 Jordan - hand job phone sex, guided masturbation phone sex, mutual masturbation phone sex

Secret Maya - Sensual Orgasm Control...One Drip at a Time

Jenna Nicole - Kinky, No Taboos Phone Sex Tease!

H0T G0DDESS - Raw. Smart. Young. Hot. Kinky. Sexy. Horny

KevinsAlwaysHorned - Money Master for Gay Phone Sex & Financial Domination

Lady Andra - Ebony Domme for Orgasm Control

Mistress Rage - Mistress Rage, Domina of the highest order

She Hates You - Extreme Humiliation & Financial Domination

Catherine - Cum Unload With Catherine - Webcam & Phone Sex

Ms Amy Paige - Mature Phone Sex, Lingerie & Stockings, Feminization

Hot Nasty Milf - Mature Phone Sex, Anything Goes Role Play

Mean Lady Madison - Sexy Sadistic Hardcore Fetish Mistress

Your Willing Slave Girl - Submissive girl, eager to please

Lady Sascha - Femdom Cocktease Phone Sex Mistress

Evening Siren - Detailed Masturbation for your Dominant BBW Goddess

Mistress Edenn - Sensual Domination, Kinky Seduction and Orgasm Control

Oriana - Sexual Empathy

Sexi Lisa - Young Hot Anything Goes Phone Sex

Teen Samantha - Taboo Teen Humiliation Princess

Lissette - Fetish Webcam & Phone Sex

Cuckold Princess Karin - Cuckold Phone Sex Princess

Sweet Lila - Asian Phone Sex - Worship A Korean Princess

Bad Girl In Vegas - MILF Fetish Phone Sex & Web Cam

Southern Princess Lexi - Princess of Humiliation & Financial Domination

Lady Fionna - Big Beautiful British Domme

Mistress Tich - FemDomme for sissyboys, CBT, Small Penis Humiliation

Mistress Chynna Katt - Supreme Humiliation for Tiny Dicks & Cuckold Boys

New to Niteflirt? You can try it free!
Visit our blogs for full details.

Click here to go view the May 2010 National Masturbation Month Blog Hop
Summer
FAQ